WiFi Temperature Data Logging Sensor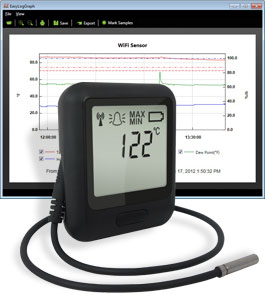 Price: $250.
Measure temperature while transferring data via WiFi to a PC
Built-in data display
Measurement range from –20 °C to 60 °C (–4 °F to 140 °F)
802.11b-compliant
Capable of logging greater than 1,000,000 temperature samples
Sensor memory stores all data even if WiFi is temporarily disconnected
Internal lithium polymer battery (rechargeable using included Micro-USB cable)

Software
EasyLog WiFi software available as free download
Sensor setup via easy-to-use software interface
View and analyze data from multiple WiFi-500 sensors, including immediate graphing of logged data
Export logged data for immediate graphing in Microsoft® Excel®
Audible temperature alarm feature
Supported Operating Systems: Windows® 7/Vista®/XP SP2, 32-bit or 64-bit
---
Low-Cost Temperature, Humidity, and Thermocouple Data Loggers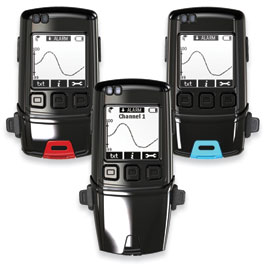 Price: $235.

Measure temperature, humidity, or thermocouples
Logging rates from 2 seconds to 2 hours
Battery powered
Push-button controls
Audible and on-screen alarms
Graphic LCD shows real-time readings, graph, and current status
Stores over 250,000 readings
Built-in magnets for mounting

Software
Includes easy-to-use software to set sampling interval, alarms, start time,
and many other options
Easily display, graph, and save data in formats such as .csv to import into
Microsoft® Excel®
Supported Operating Systems: Windows® 8/7/Vista® SP2/XP SP3, 32-bit or 64-bit
Mini Salon Cross-Arm Camera Stand
Price: $1295.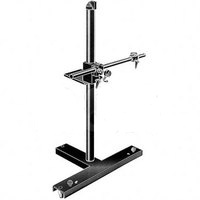 Allows working heights from 22.5" to just under 6 ft.
The counter-balanced column in black anodized aluminum is mounted on a heavy cast iron 33" x 21.5" base with two pivoting wheels which lock firmly into place with individual wheel locks.
The Mini Salon features a smooth operating counter balanced horizontal gear driven cross-arm, supplied complete with a camera support platform. The cross-arm support casting also features a built-in 7.8 x 11" accessory tray.

A double camera bracket, mount for an additional camera, 90° camera mount, and utility tray are among the accessories that may be ordered separately.


---

Carbon Fiber Tripod / Rapid Column with Pro Head
Price: $1250 / pkg.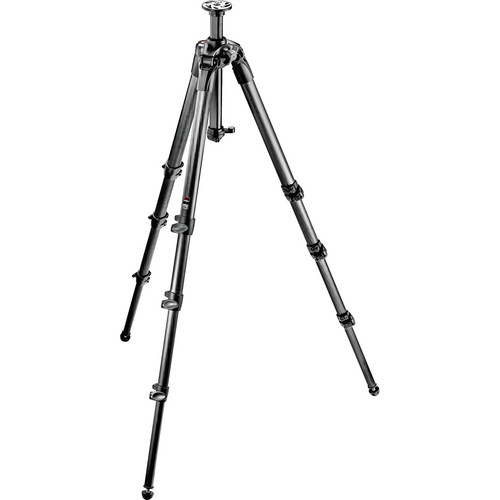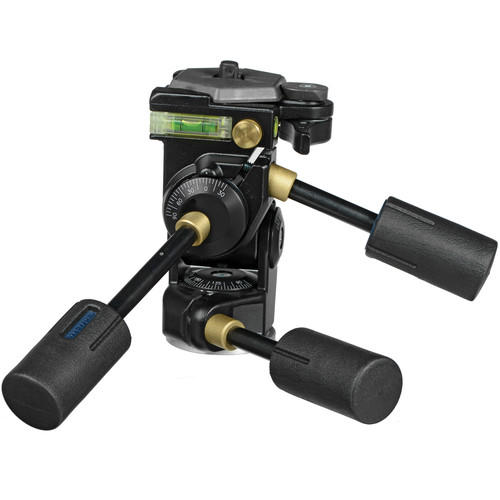 Carbon Fiber Tripod with Rapid Column is a heavy-duty tripod that's intended for use with video cameras and large still cameras. With a 39.7 lb load capacity, the lightweight carbon fiber leg tubes of the 057 tripod provide rigid support even under a considerable amount of weight.

Rapid center column has a non-rotating, three-faceted design for increased system stability. To enable extremely low-angle shooting, you can unscrew the center-post collar, remove the center column, and attach the collar directly to the included low-angle adapter (through the chassis). With this method the 057 tripod can achieve a minimum height of 9". Maximum height 80.7".


Pro Head attachment features built-in bubble levels for horizontal / vertical control & oversized handles. Calibrated degree angles and quick release plate.



ThermReview Software
Infrared Image Processing

Price: $4495.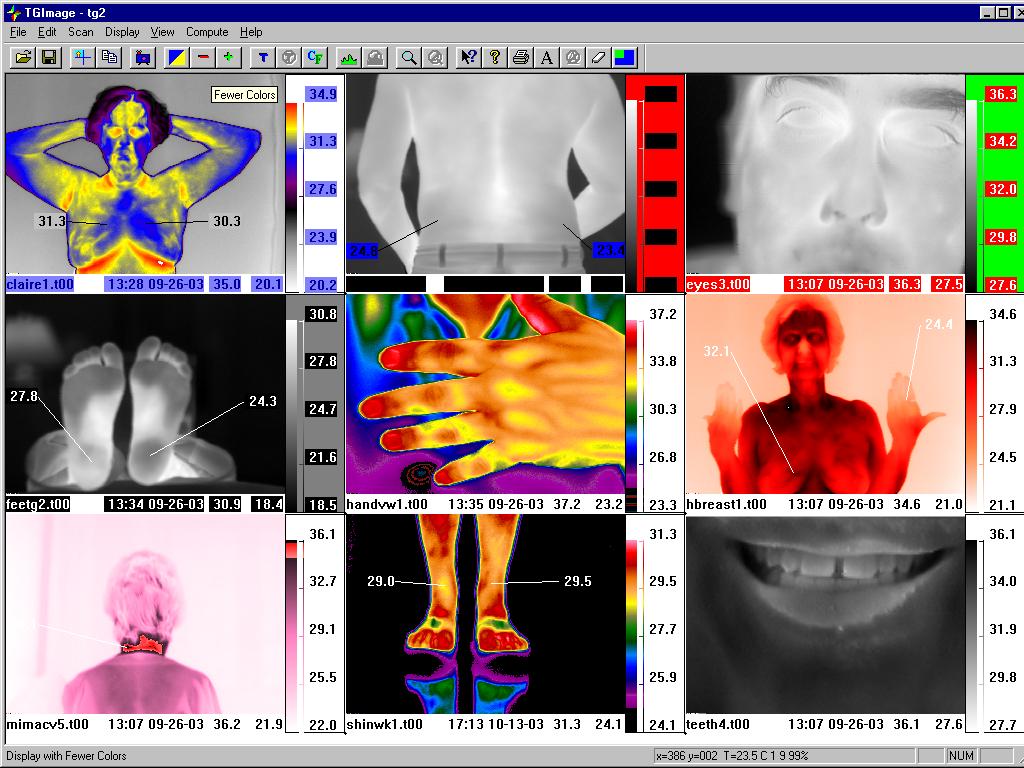 Powerful software package for post-processing of infrared thermal images.

Provides for multiple display.

Post-processing of Delta T values and temperature ranges.

Unlimited palette control / design

For more information - click here


Multiple digital zoom

Automatic save to disk of images after scan


Precision spot temperature control

Flexible pointer and identifier for any location on image

Operational symbols/icons for one-click operation

Mouse controlled temperature display at any location on the image

Software calibration in the field


Unlimited color palette design

Plus/minus control for number of colors displayed for image

Multiple palette display on same screen


Toggle for Celsius & Fahrenheit

Reverse color scale control

9 image window display over multiple windows

Multiple Isotherm selection


Download function of temperature data to Excel format
---


Remote Temperature and Humidity Logger

Price: $149.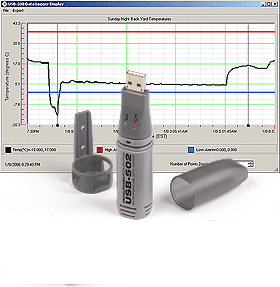 Low-cost, remote temperature and humidity logger

For Commercial or Home Use!

Easy to use—no training required
Stores 16,382 temperature reading and 16,382 relative humidity measurements
Supports -35 to +80 °C (+/- 1 °C accuracy)
Supports 0 to 100% relative humidity
All software included to install, configure and download data
Software includes powerful strip chart and export to Excel®
Protected against moisture to IP67 standard when cap is installed
Battery-operated
1-year warranty
For establishing a controlled environment and recording changes via USB input technology.


---
USB Battery powered remote Counter / Event / State Data Logger
Price: $175.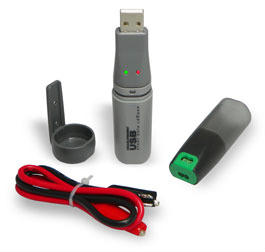 Stand-alone data logger for recording events, state change, and event counter.
Logging rate of up to four times per sec for events, two times per sec for state changes and 100 times per sec when counting
Stores up to 32,510 readings
Accepts input voltages up to 24 V
Rising and falling edge triggering
LED flash on event / state change
Signal connection via two screw terminals
Data Logger Application software to install, configure, view, and export data to Excel®
Pro Series - Battery-Powered Remote Temperature Logger with Extended Temperature Range

Price: $295.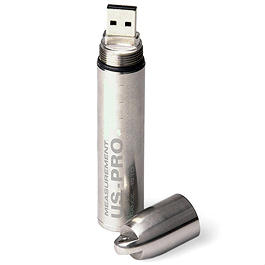 Measurement range: -40 to +125 °C (-40 to +257 °F)
Accuracy: ±0.2 °C (±0.4 °F), typical
Operating temperature range: -40 to +125 °C (-40 to +257 °F)
Stores up to 32,510 measurements
All software included to install, configure and download data along with powerful strip-chart and export to Excel®
Protected against moisture to IP67 standard when cap is installed
Software configurable data rollover: Allows unlimited logging periods by overwriting the oldest data when the memory is full
Includes 2/3 AA, 3.6 V lithium battery
Rugged 316-grade stainless steel housing with threaded protective cap and O-ring
Sampling rates from once per second to once every 12 hours
Supported Windows® Operating Systems: Windows 7/Vista/XP SP2,
all 32-bit



---
Non-contact Forehead IR Thermometer

Price: $195.

89.6 to 108.5°F, ±0.5°F accuracy, 1.9 to 5.9" optimum distance, 0.5 sec response time.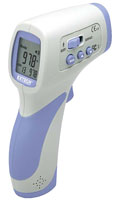 The non-contact forehead IR thermometer measures body temperature from 89.6°F to 108.5°F (32.0°C to 42.5°C) without contact. The thermometer is accurate to 0.5°F (0.3°C) with 0.1°F / °C resolution. The adjustable alarm alerts the user visually and audibly when the measured temperature exceeds the programmed limit. The optimum measurement distance is 1.9" to 5.9" (5 to 15cm).
The non-contact forehead IR thermometer measures surface temperature from 32°F to 140°F (0.0°C to 60.0°C) and has a fast response time (0.5 seconds). Simply press the trigger and read the temperature on the large backlit LCD display. The memory stores up to 32 readings for easy recall.
The non-contact IR thermometer ships complete with two AA batteries and pouch.